Taking cleanliness to new heights
Tang Yin Pheng has been a cleaner at various eateries for over 20 years, and enjoys keeping the tables clean and bonding with her colleagues.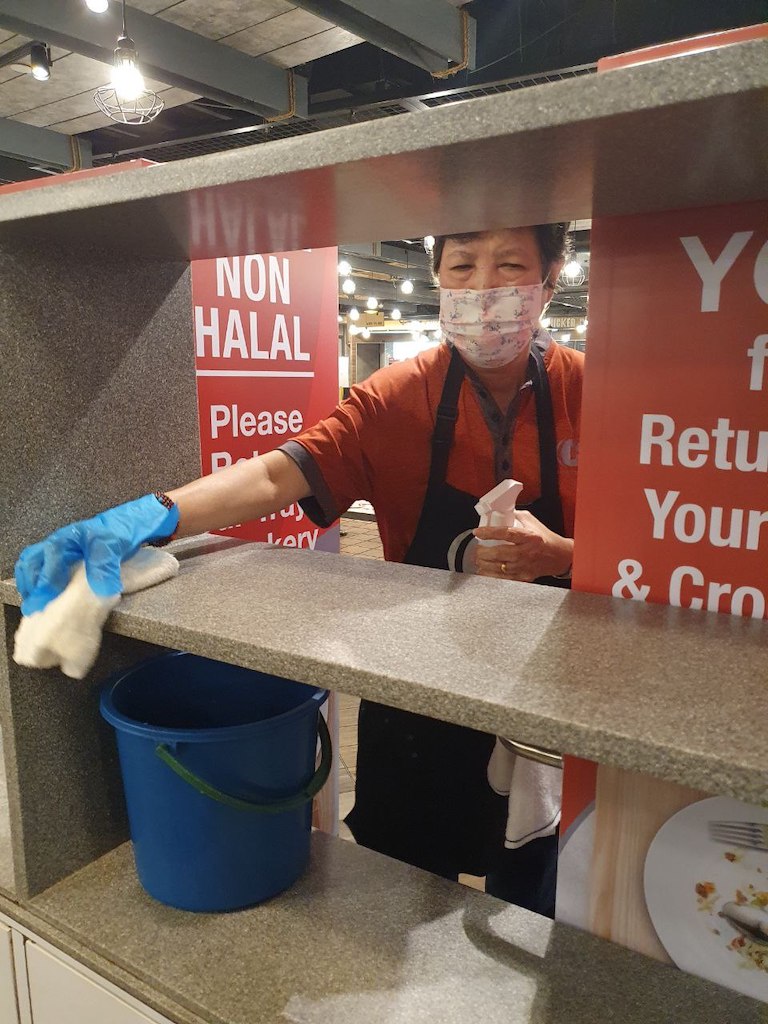 Tang Yin Pheng is fastidious about cleanliness. The 66-year-old said, "I personally enjoy cleaning. It's not easy but it makes me happy when things are clean. When I see my house messy, I have the urge to clean it up and it makes me really satisfied when things are in order." She has turned this need to clean into helping to clean tables at IMM's Kopitiam food court.
Having worked as a cleaner now for over 20 years at more than five eateries, Yin Pheng shared that her first cleaning job was at a coffeeshop. Much different from her earlier job working at a warehouse company and clocking in 12-hour shifts, doing barcode scanning, moving goods, etc. Today, she collects trays and plates, and distributes them back to the various stalls. She also cleans the floors and sanitises the tables.
Though not in her job scope, she also helps her colleagues sometimes wash the plates. She explained, "When you work together with your colleagues for a long time, you have a sense of familiarity with them." She works six days a week, clocking in an eight-hour shift from 11am to 7pm.
It is more than money that motivates her to get up in the morning and do this tough work. "This job allows me to be more active, and I have friends here. In fact, I consider all of them family now. I don't want to work anywhere else even when people recommend other places because I cannot bear to leave them. At home, it's very boring because there is nothing to do and no one to talk to and no income generated when you are at home. But here, I have things to do and this helps to stimulate my brain too."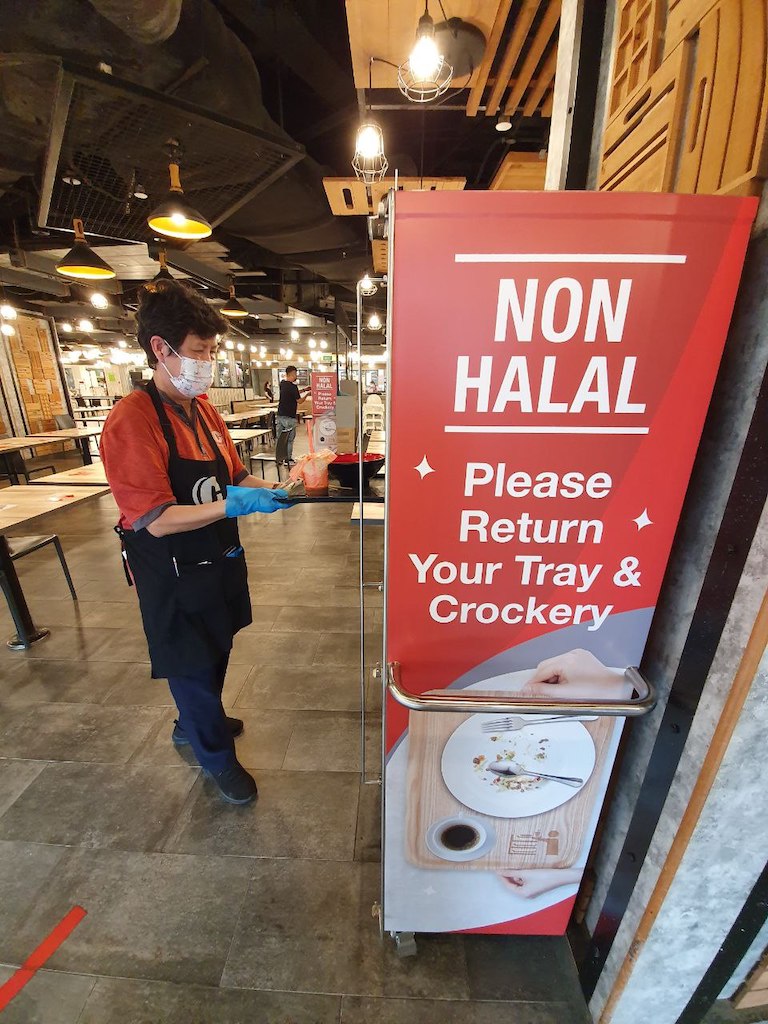 The grandmother of three also likes seeing customers remembering her and appreciating her. "When customers see us, they will greet us. I have a lot of customers that recognise me and greet me even when I worked at the other outlets. Since I've been working for so long in Kopitiam, many people will recognise me and ask about my well-being. Some of the customers will also show appreciation and say thank you for keeping the place clean. It's a nice and warm feeling."
Over the years she has been working, much has changed, especially now with it being mandatory for diners to return their trays and clear their table litter including used tissues, straws, canned drinks, etc. Yin Pheng said: "In the past, people will leave a mess behind after they're done, and it is especially exhausting for us cleaners because there is nobody to teach people to clean up after themselves. In general, more people are now cleaning up after themselves.
"However, there are still some people who forget to return their trays. I will help them return, and they will say thank you. There are also older people with movement problems, so we will help them clean up instead. It's not about paying fines if people don't return the trays, but more about sparing a thought for others too. Wouldn't you like to find a clean table when you eat out? This enforcement of tray returns is good as it keeps the environment clean and helps to reduce the cleaners' workload too. We can then focus on deep cleaning of other areas."
Asked what she feels about foreigners saying that our seniors shouldn't be cleaning the tables, she said: "I understand that they are worried for seniors who are working despite their age, but this is a job that they chose to do. I do this job as makes me happy and at least I am doing something." She advised seniors, "Do what makes you happy."
(** PHOTO CREDIT: Public Hygiene Council)