Geronpreneurship Innovation Festival
SUSS nurtures innovations and collaborates with the World Health Organization.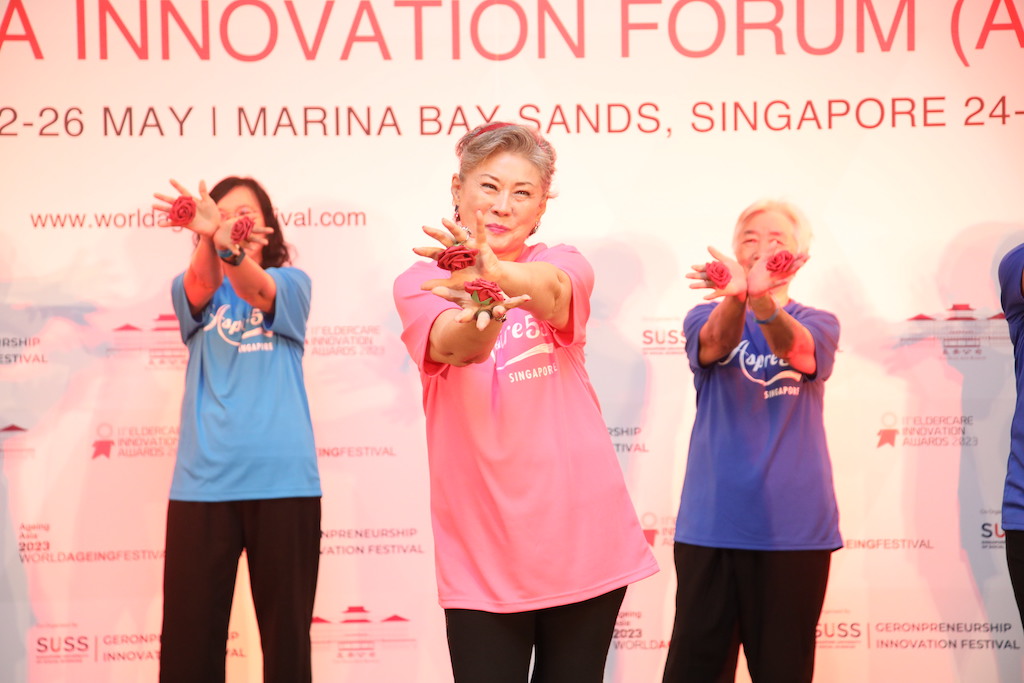 The Singapore University of Social Sciences (SUSS) launched the SUSS Geronpreneurship Innovation Festival at the World Ageing Festival held on the 24 to 25 May to discover and nurture high-potential innovations in an effort to develop the gerontology sector. It is a key initiative rolled out under the Ngee Ann Kongsi (NAK) Social Impact Hub and established through SUSS with a S$10 million donation to the university.
The festival hosted the Ageing Startup Pitch Stadium for gerontology-focused startups and showcased next-generation Geronpreneurship solutions and strategies with SUSS partners, covering cognitive, physical, social and emotional well-being of seniors. It represents a culmination of SUSS' suite of latest programmes including SUSS' Impact Startup Challenge and Venture Builder Programme to develop and groom student entrepreneurs in the gerontology sector.
This year's shortlisted startups for the Ageing Startup Pitch Stadium included:
Elec.net – a smart switchboard in the homes of seniors, which comes with multiple functions to empower eldercare and caregiving.
Allwin – a healthy ageing social network that uses gamified education to teach exercise professionals and health enthusiasts how to tackle cancer, diabetes and other chronic conditions.
The Sensory Lab – helps those with dementia and their caregivers creatively restore their memories and family bonds with the help of affordable and effective cognitive training tools and technology.
iChop – a double-handed knife combined with a multi-functional chopping board for seniors with Parkinson's disease or sarcopenia to help them overcome their symptoms and make meal preparation an easy and safe experience.
KopiWMe – an app which addresses three key challenges of seniors including lack of interaction among seniors, limited awareness of existing activities available to them, and the absence of dedicated platforms to connect with like-minded individuals.
Sunshine Seniors – a community-based emarketplace of curated senior-friendly products and services.
Surety SG – a platform of articles and media by in-house medical specialists to facilitate understanding of perimenopausal, menopausal and general ageing symptoms.
SUSS also launched a collaboration with the World Health Organization (WHO) for community health services to train a pioneer batch of 40 assessors in Singapore in the application of the WHO Integrated Care Assessment for Older Persons (ICOPE) to provide a person-centred health and social care approach towards optimising the functional abilities of seniors. Through the framework, healthcare and social workers and caregivers are equipped to screen seniors at risk of care dependency in the community and recommend personalised care plans for them. This can help prevent, slow down or reverse declines in the physical and mental capabilities of seniors as well as boost Singapore's Healthier SG national preventative care strategy for an ageing population.
The World Ageing Festival organised by social enterprise Ageing Asia had 2,000 global industry leaders from 21 countries and less than 3,000 seniors in attendance. The theme this year surrounded 'Celebrating Life and Longevity', addressing the mindset shift of new generations of seniors who aspire for health, independence and purpose. The festival gave away 3,000 complimentary tickets to seniors, recruited volunteers 50 and above, and provided space to celebrate silver entrepreneurs.