New campaign to help families talk about advance care planning
The NTU undergraduates behind the campaign found that more than eight in 10 adults have not discussed their parents' future health and personal care preferences with them.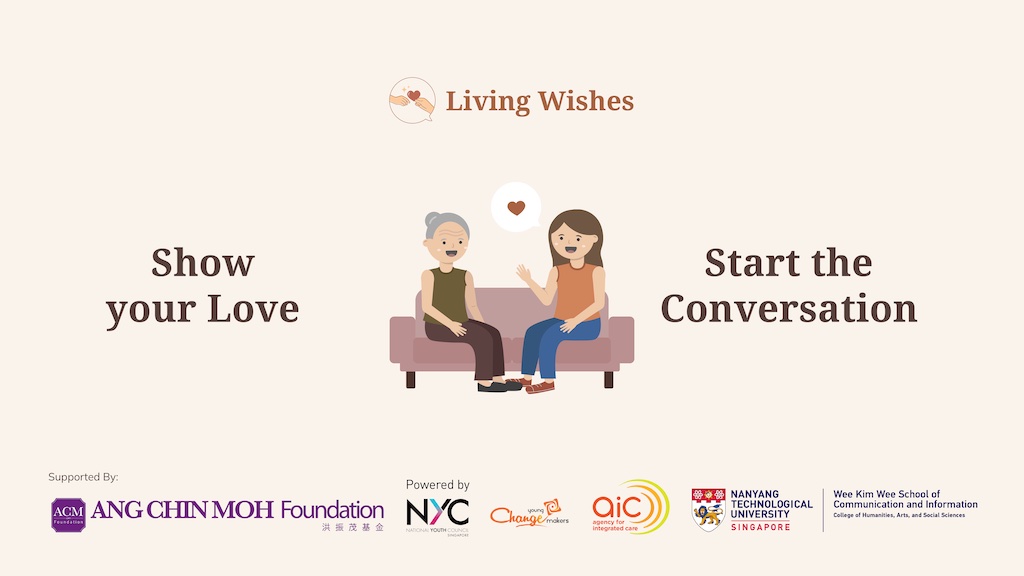 From December 17 to March next year, a team of four undergraduates from the Wee Kim Wee School of Communication and Information, Nanyang Technological University will lead a new campaign to raise awareness and encourage conversations about Advance Care Planning (ACP), an ongoing process of planning for one's future health and personal care preferences.
Supported by the Agency for Integrated Care (AIC), the Ang Chin Moh Foundation and the National Youth Council's Young ChangeMakers Grant, the Living Wishes campaign aims to increase ACP discussions between adult children and their parents. In a survey among 105 Singapore residents aged 35 to 59, the team found that more than half of the respondents (51 percent) do not know what ACP is. Over 80 percent of respondents have not discussed their parents' ACP preferences with them, while almost 60 percent of them are not aware of what their parents want in their end-of-life care.
"It is always good for people to start thinking about ACP and to discuss their preferences with their family members while they are well and healthy. This early and forward planning will better inform caregivers of their loved ones' health and personal care preferences in advance. This gives the family peace of mind and helps them to be better prepared to make decisions when the time of need eventually arises," said Tan Kwang Cheak, CEO of AIC.
"As the agency leading the national ACP programme, AIC believes that ACP conversations should start before individuals are in a critical end-of-life stage. Together with the Living Wishes team, we acknowledge that these would be difficult conversations but families should consider initiating them as early as possible."
The Living Wishes campaign will kick off with an event titled Live Your Wishes, from December 17 to 28, 2021, at Tampines Regional Library in Our Tampines Hub. Members of the public can visit the booth to learn more about the importance of ACP, pen down wishes for their parents and hang them up onto a Christmas tree. By reflecting on one's relationship and wishes for their parents, the team hopes to urge adult children to find out the unspoken wishes of their loved ones.
Along with the event, Living Wishes' website, Facebook page and YouTube channel will roll out a video titled "How well do we know our parents' end-of-life wishes?", which features a daughter guessing her parent's ACP preferences. Through this video, the team hopes to emphasise the importance of understanding our parents' beliefs, values and wishes to be able to make informed decisions on their behalf during unexpected medical situations. Reflecting on the experience, Lillian Tan, 49, who participated in the video, said: "It's a continuous journey to learn about my mum. It's not only about what I do not know, but also about me accepting that she doesn't like certain ways of doing things."
Next February, Living Wishes will also push out ACP Conversation Starter Kits to help adult children start the conversation with their parents. This kit will feature a Tumbling Tower game, conversation cards and other educational resources. More information about the campaign can be found at www.livingwishesSG.com.
SIDEBOX: What is Advance Care Planning?
Advance Care Planning (ACP) is the ongoing process of planning for your future health and personal care. It involves a discussion and documentation about your personal beliefs and goals with your loved ones and healthcare providers.
Discussion – Some topics covered in an ACP discussion include:
■ Preferred treatment options.
■ Place of care and death.
■ Extent of healthcare to be applied.
■ Nominated Healthcare Spokesperson.
○ During or after discussion, you can write down your wishes and preferences in the ACP workbook; or
○ Attend a facilitated session at selected hospitals, polyclinics and community care providers.
○ This will guide your family and healthcare team in making decisions if a crisis occurs in the future.
Who should do ACP?
ACP can be done by anyone aged 21 and above in Singapore. Ideally, you should start discussing your health and personal care preferences when you are still healthy and have the mental capacity to express yourself.
What is a nominated healthcare spokesperson?
In the event that you are unable to speak for yourself, a nominated healthcare spokesperson (NHS) will be your voice to help communicate your preferred treatment and care plans to your healthcare team.
Why is ACP important?
• ACP enables you to make your own decisions on how you will be treated and cared for in the future. Starting ACP discussions early ensures that you can receive the type of care that aligns with your goals and values.
• ACP guides your loved ones in future unexpected situations. Having ACP conversations early allows us to make informed decisions on their future care plans. This can also help avoid unnecessary stress, conflicts and guilt.